Custom Menus
Custom Menus are a list of common links that are usually displayed as the main navigation for your site. The menu location can vary depending on your theme, and some themes offer additional menus such as social links menus.
Watch the video below for a quick overview of how a custom menu works, and read below for more examples and settings.
To add your first custom menu, follow these steps:
1. Create a Custom Menu
Go to your My Sites, and click on Menus to create your first custom menu. By default the Primary Menu area for your theme is selected for you, and Default Menu has been started.
To change the name of your Default Menu, click on the pencil icon and give it a new name like "Main Menu."
2. Organize your menu
If you have any pages already published on your site, those pages will be listed for you in your first menu. You can also add any additional pages and links you'd like.
Note: Before a new page can be added to your menu, you must first create and publish it.
To re-order your menu, move a menu item by dragging-and-dropping, or by updating the settings within the item you'd like to move:
Click on the pencil icon next to it.
In the menu item details, click on the Move button.
Click the Move here link closest to where you want to move the item.
Select Move Item Above or Move Item Below.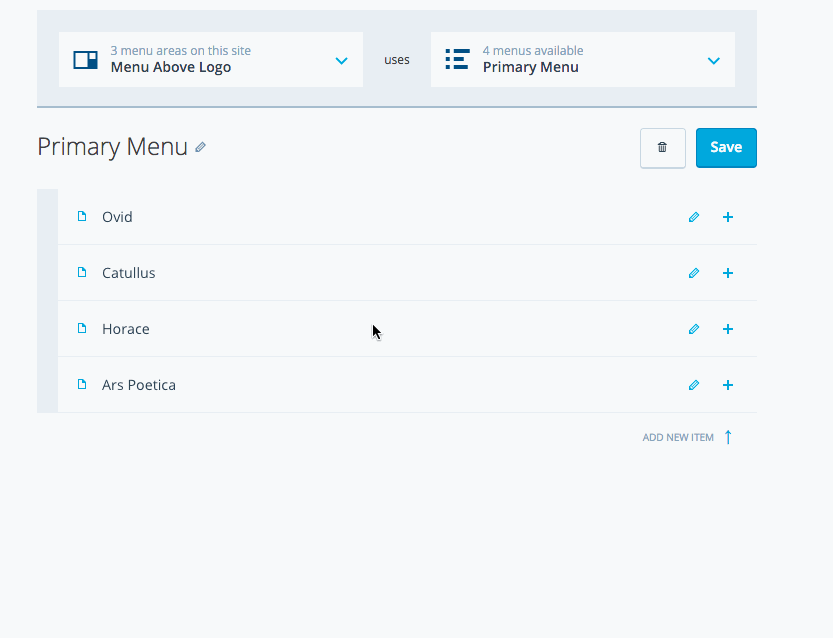 You can also add a drop-down to your menu using the drag-and-drop feature.
Add the link to your menu that will appear in a drop-down list.
Drag it and drop it directly beneath the main menu item you want it to be found under.
Drag it again, this time to the right, so it indents beneath the main menu item, and drop it there.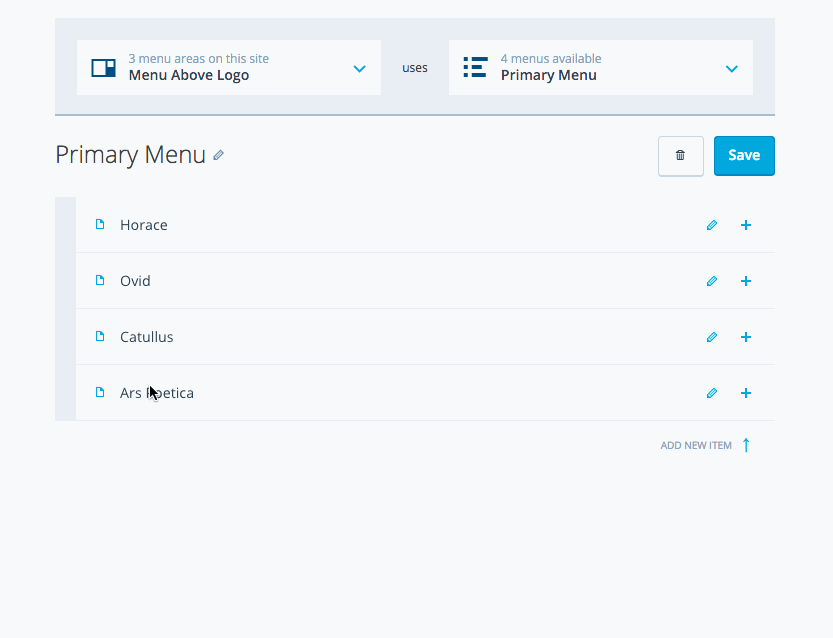 3. Save your menu
Once you have organized your menu, be sure to click the Save button to save your custom menu.
---
Additional menu items
In addition to pages you have already published, you can add several different types of menu items to your custom menu:
Page – Adds a link to another page on your site.
Link – Adds a custom URL linking to another site.
Category – Shows a feed of blog posts from a given category.
Tag – Shows a feed of blog posts from a given tag.
Post – links directly to a blog post on your site.
To add one of these menu items:
Click on the + icon next to an existing item and choose whether the new item should go above or below it. (You can always move it again after you create it.)
Choose the menu item type from the list that appears at the left.
Select from the options displayed for that type.
Give the menu item a name in the New Item field — this is what will actually appear in your menu.
Click the Add Item button.
Frequently Asked Questions
Q. The type of menu item I want is unsupported, what should I do?
If you get a warning saying that your item type is unsupported, or you can't see your desired type in the types list, you can still edit these types at WP Admin → Menus. Currently, some Post formats are not supported in the new menu page but are still supported in WP Admin.
Q. It's showing a Menu but when I go on my site the menu is not there, how do I fix it?
If your theme isn't showing your default menu, try making any change to the menu and re-save — this should force the theme to use that menu.
Q. Where is the feature X that was there before?
If you want advanced features, such as adding menu item descriptions, CSS classes, changing a link's target or title attributes — please use WP Admin → Menus.
Q. How do I create an un-clickable parent tab for my sub-menu
To create a menu item that is not clickable but will contain submenu items, just add a Link menu item and add a # symbol in  the "Link Address (URL)" field.
---
Next page: Custom Menus in WP Admin